Chef School - Celebrity Chefs
Rob Rainford
Rob Rainford was born in Jamaica and came to Canada when he was three.  His interest in food began with his mother and grandmother who were both amazing cooks.  Rob's mother taught him that the kitchen is the heart of a home.  Dinner time was always family time.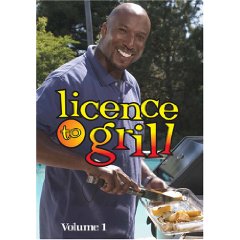 In 1994, Rob enrolled in culinary school at George Brown College in Toronto. 

He then began his professional career at the Kensington Kitchen and then Accolade/Crown Plaza also in Toronto.  By 1999, he was working with Chef Ned Bell at Senses. 

Today Rob teaches at the George Brown College Continuing Education Program.
Rob Rainford is best known for hosting his popular cooking show "Licence To Grill".  His DVD Licence To Grill - Volume 1
is available here. Grilling has indeed become his favourite way to prepare quick, flavourful and healthy meals.