Sidewalk Art
Make your own pictures or write your name in a funky graffiti style. Make a colorful rainbow, hearts, stars, moons..

Do team drawings.  Each of you draw the front half of an animal – but do it far enough away so you can't easily see the other person's drawing.  Once you have finished, cover it with some newspaper.  Switch sides and draw the back end of an animal on your friend's side.  This is most fun if you don't know what animal your friend drew- you can get some funny combinations.  Make up names for your new animal creations once you unveil them.

Make a modern art print by just using 2-d shapes and coloring them in.  Add some straight & squiggly lines in different colors, some background colors & some cool patterns.

Make a flower bouquet – use all the same flowers in different colors or make all different ones.  Don't forget the stems to tie in a bouquet at the bottom.

Make a long street scene.  Draw the road first and then everyone can add their own buildings, trees, cars, etc.
If you have interloc bricks, you can color them in individual colors.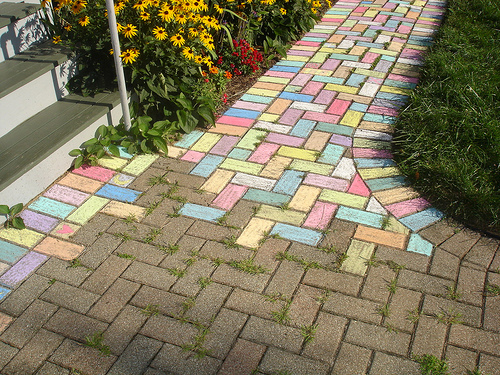 What is new in sidewalk chalk?
Budding artists can turn any paved surface into a giant coloring book with Crayola's new (washable) 3D Sidewalk Crayons and Chalk (ages 4 and up). Each piece of dual-ended 3D chalk pairs contrasting colors to create scenes that "pop" when you put on the 3D glasses.
Crayola 3D Giant Sidewalk Chalk Set