Zia Flora's Spaghetti Sauce
¼ cup olive oil
2 tbsp. fresh basil, finely chopped
2 cloves garlic, minced
3 tbsp onion, finely chopped
4 thin slices of prosciutto, finely chopped
3 cans diced tomatoes (put in blender to thin out slightly)
1 1/2 tsp. salt
½ tsp. pepper
½ cup grated Parmesan or Romano cheese*
*You can freeze remaining sauce. 
**A variation on this sauce is to melt 1 tbsp. of butter in a skillet, add heavy cream or milk and then add 1/3 of red sauce to the pan in order to make a rose sauce.
*You can also add a tsp or two of sugar if you like it a little sweet.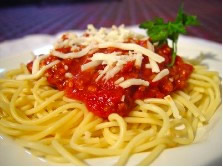 Heat oil in a saucepan over medium heat.  Stir in garlic and onion and cook until onion is translucent. 
Do not overcook garlic…it can burn quite quickly! 
Add basil and cook one more minute.  Add tomatoes, along with the rest of the ingredients.  Stir until well blended and cook until sauce comes to a boil.  Stir once again and then lower heat. 
Now would be the time to add your meatballs if you wanted to cook them with the sauce.  Cover and let simmer for 30-45 minutes, stirring occasionally. *Always taste your sauce (make sure it's cooled first in the spoon) and add salt or pepper if you like to the pot.