Yogurt Parfait
Amounts of ingredients will depend on the size parfait glasses you use.  If you don't like strawberries or bananas, you can substitute kiwi slices, chopped apple, grapes, raisins, sliced peaches – almost any fruit.  You can even have a build-your-own parfait bar for parties.
4 cups of low fat yogurt –or frozen yogurt -plain or your favourite flavor.
2 cups of granola – or your favourite granola cereal
2 bananas
1 cup of sliced strawberries
1 cup chocolate chips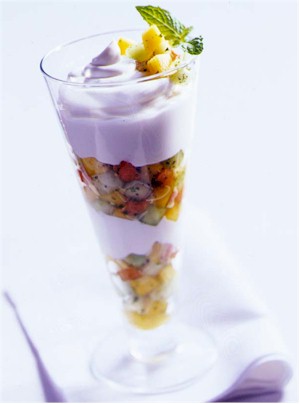 When you are building your layers, just make sure to put enough of each ingredient to cover the last one you added – so you can see stripes of color thru the glass.
Using a parfait glass, or other see-thru wide glass, put a layer of granola on the bottom (1-2 tablespoons)
Next put a couple of tablespoons of yogurt.  Follow with strawberries, then yogurt, then granola, then yogurt, then bananas, then yogurt  & chocolate chips on top – or any combination you like.