Baked Pita Chips
2 multi-grain, whole wheat or white pita breads
4 tbsp grated parmesan cheese
1 tsp herb mix, or dried parsley, dried basil or Italian herbs
¼ tsp garlic powder
Olive oil flavoured cooking spray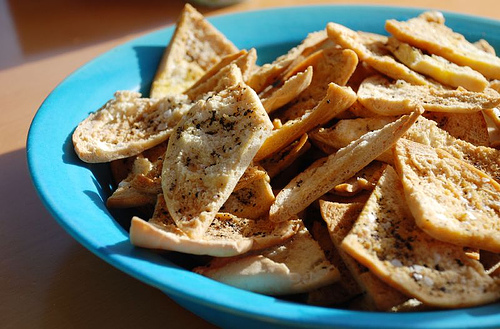 Preheat oven to 350.  Line baking sheet with foil
Cut each pita into 6 pieces.  If pita is double sided, use scissors to cut end edges & separate each wedge into a single sided pita wedge.
Spray foil with non stick olive flavoured spray.  Place pita wedges on foil with the rough side facing up.  Spray pita wedges with olive oil spray.
Combine cheese, herbs & garlic powder in a small bowl.  Sprinkle mixture over each pita wedge.
Bake 12-14 minutes until golden brown.
Delicious!