Broccoli Cheese Quesadilla
1 cup shredded cheese – use the Mexican blends available, or any combination of Monterey Jack, Cheddar & Mozzarella cheeses
½ cup finely chopped fresh broccoli (can also use broccoli leftover from night before)
2 tablespoons salsa – or 2 tablespoons picante sauce or 3 tablespoons diced tomatoes (if you don't like spicy/salsa)
4 flour, corn or multigrain tortillas (6 to 8 inch)
1 tsp butter
Note:  You can vary this recipe by using cheese only, cheese & tomatoes, cheese & mild peppers, cheese & cooked chicken.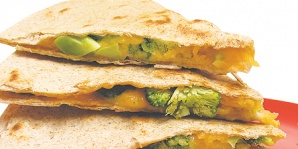 Combine cheese, broccoli and salsa in a bowl.  Mix well.


spoon ¼ of the filling onto each tortilla.  Place the filling so it is covering one half of the tortilla.  Fold the tortilla in half by folding the empty side over the filled side.


Melt ½ teaspoon of butter in a non-stick skillet over medium heat.  Add 2 quesadillas – be careful not to spill the filling.  Cook a couple of minutes on each side until cheese is melted and tortillas are golden brown.  Repeat with remaining butter & quesadillas.  Let cool, cut in pieces & put in your thermal lunch box.