Butternut Squash Soup
1 - 3 lb. butternut squash - cut at bulge - take seeds out, peel with a vegetable peeler or knife - cut into 1" chunks
1 large onion - chopped
2 cloves garlic - chopped
3 tbs. butter
Approx. 4 cups Chicken or vegetable stock
1 tsp cinnamon 
2 tbsp maple syrup
Salt & pepper to taste
Sour cream for topping - optional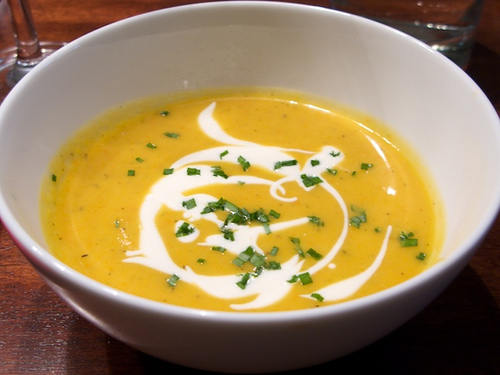 Over med. heat -in a large sauce pan. Melt 3 tbs. butter
Add onions - cook for 5 min.
Stir in garlic and 1 tsp. cinnamon - cook for 30 sec.
Add Squash. Add chicken or vegetable stock to cover completely
Heat on high and cover - bring to boil
Turn heat to low - for 25 min. until squash is cooked.

Ladle vegetables in batches into blender and push 3 to 4 times and puree - put in separate bowl and do next batch, etc.
If too thin - add more of the vegetable stock from the sauce pan
Add 2 tbsp. maple syrup
Add salt and pepper to taste
Sour cream on top if desired