Chicken Noodle Soup
8 cups chicken broth
1 chicken breast, cut into pieces
4 carrots peeled and chopped
4 celery stalks, chopped
4 cloves garlic, minced
1 large onion, cut in quarters
½ cup chopped parsley
salt and pepper to taste
1 large tomato, quartered (optional)
4 cups cooked noodles – your choice (wagon wheels, spirals, shells, macaroni,etc.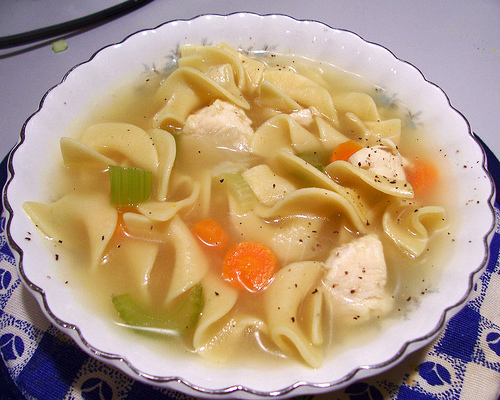 Combine all ingredients except noodles in a large pot.  Bring to a boil over medium-high heat.  Skim off any foam that rises to the surface.  Reduce heat to low.  Cover and simmer for 1/2 hour.
The stock will keep 3-4 days refrigerated or several months in the freezer.  Just add the cooked noodles when you are ready to serve.