Pinwheel Sandwiches
Pinwheels are quite pretty and make a nice party tray.
4 (6 to 8 inch) flour tortillas
4 ounces cream cheese with onion & chive (or herb & garlic)
3 oz lean ham
1 cup shredded cheddar cheese (can use non-fat or low-fat)
½ cup chopped apple – or chopped tomato (your preference)
½ cup shredded lettuce
You can also make rolls with roast chicken, smoked turkey breast,roast beef, etc.  Try different flavours of cream cheese or use goat cheese.  You can substitute spinach, chopped cucumber, chopped avocado or alfalfa for lettuce.  You can even add mustard, salsa, peach or apple preserves or chopped pear. 
c 2009 Fit For A Feast .com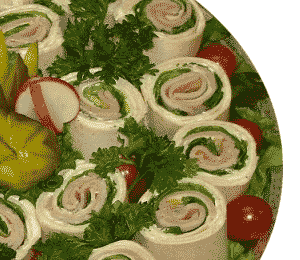 Spread 1 oz of cream cheese on half of each tortilla – bringing cheese right to the edge.
Sprinkle cheddar cheese over cream cheese, & make strips with the other ingredients –
Tightly roll up tortillas from left to right, pressing the edge with the cream cheese down – this will help the edges to stick & keep the roll together.  Trim off the ends.  You can do this step ahead of time, wrap in plastic wrap & keep refrigerated.
Cut the rolls into 1 inch pieces and lay them flat on a plate – so they look like pinwheels.