Shrimp and Chicken Kebabs
1 to 1 ½ pounds of medium sized, uncooked shrimp.
2 Large boneless, skinless chicken breasts
20+ skewers (soaked in water at least 30 minutes before grilling)
Peel and de-vein the shrimp.  Cut the chicken into 1 inch cubes.  Prepare the following marinade by mixing all ingredients together in a bowl:
1 cup chicken broth or 1 cup white wine
½ cup chicken broth
¼ cup chopped green onions
¼ cup olive oil
2 cloves garlic, crushed
2 tablespoons chopped fresh cilantro
¼ tsp sea salt
.
c 2009 Fit For A Feast .com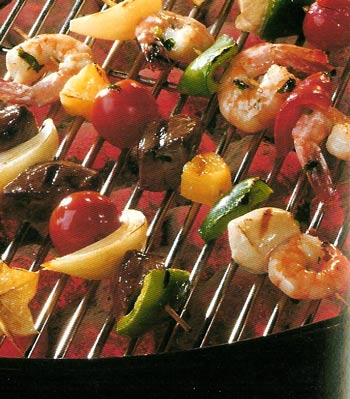 The chicken or shrimp should be prepared the night before the party
Place chicken in a bowl or in a resealable plastic bag.  Pour half the marinade over it.  Do the same for the shrimp.  Place in refrigerator over night (cover the bowl with plastic wrap).  Stir occasionally.  When ready to cook the next day, drain the meat/shrimp and place 6 pieces on a skewer.  Place kabobs on a lightly oiled grill over medium heat.  Cook 4-6 minutes, turn and cook another 4-6 minutes.  Cook until shrimp turn pink & chicken is no longer pink. Serve with veggie Kabobs & rice.