British Singer Connie
British Singer - Connie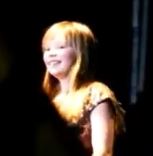 Connie Talbot wowed Simon Cowell & the judges on Britain's Got Talent when she was 7.  She was just 8 years old when appearing on an Asian television show.
In the finals, she impressed the world again as a potential superstar. This shows again that it is never to young to start taking singing lessons.
She continues to perform live on stage.
This song is called Building Bridges and was written by Toby Gad and Rune Westberg.
When was Connie born? On November 20, 2000!
Whe was born in West Midlands in the U.K. and recently signed with Rainbow Recording Company to release her Over the Rainbow album.
Over the Rainbow