PRESS
Contact Fitforafeast for Press Information:
Email: info (at) FitForAFeast.com

Press Tel: 416-352-5364 (Canada)
or 310-388-1328 (U.S.)
www.FitForAFeast.com

Cooking up Fun!

Since our first Press Release below, fitforafeast continues to grow with millions of youtube and website views, nation-wide press and feature articles. Online news services such as Yahoo news and the wire services have carried several full length articles on the Fitforafeast.com website. Contact Fitforafeast by email at info@fitforafeast.com for further details.
See the Aug. 18th City TV News report on Fitforafeast Here (link to City TV opens in a new window)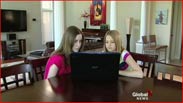 See the Global News Report - Dancing for Change!
Read the latest Fitforafeast article in the Toronto Sun Newspaper.

For Immediate Release – August 23
Fitforafeast Inspiring Kids Around the World to get Active and Healthy
The Fit For a Feast website and Youtube channel have been helping kids get fit and active for just over 2 years, and has now reached over 18 million views. The 'kids helping kids' theme has struck a chord with children around the world. Hosts, Katrina (12) and Sloane (13) have made over 200 videos on dance, fitness, gymnastics, cooking, sports and more.

The fan base for Fit for a Feast currently spans around the globe, with fans from Australia to Argentina, Singapore to Spain. Their Youtube channel receives more than 1,500 comments and messages each week from devoted fans or kids with questions.
The idea, born in grade 5 health class, was to inspire other kids to eat better and get fit - in hopes to slow or reverse the escalating childhood obesity epidemic. Katrina and Sloane wanted to show other kids that 'fit is fab' by demonstrating ways to have fun that also improve fitness. Their videos range from tutorials on how to do the splits to easy cooking recipes which kids can make.

Community support has been outstanding, with many 'guest' appearances on the show from nutritionists, cooks, dance teachers, gym coaches, sports trainers and more. The response has been overwhelming, and the girls plan to continue making videos – many of which are requests from fans.

The videos and website are completely free in an effort to bring fitness instruction to anyone who is interested – even if they can't afford traditional classes or organized sports. For many fans, dance and gymnastics classes are not available where they live.
"We have received so many messages from kids that say they have joined or rejoined activities because they were inspired by what we do. We never thought 2 kids could make such an impact, but now we are motivated to do even more."

Fit for a Feast has been featured in newspapers and magazines including Macleans, the Toronto Star, Toronto Sun, Global TV, City TV, the Canadian Press and Post City Magazine. The girls hope to reach as many kids as possible to inspire them to get outside, be active and eat right.

New Website FitForAFeast.com for kids launches - hundreds of kids activities,videos, dance and more
FitForAFeast.com is a brand new website hosted by kids for kids about fitness and feasting - having fun and being active. Hundreds of fun videos on cooking, nutrition, games, dance, sports, fitness, parties and more free activities for kids.

FOR IMMEDIATE RELEASE (Press Release) – Jul 18, 2009 – Kids today are less active and more overweight than ever before. Too many obese and unhealthy kids are developing medical problems, diabetes and poor lifestyle habits. Kids need to be shown ways to have fun and be active, to get outside and play together, and how to make good food choices. Fit For A Feast is all about fitness and nutrition - served up in an entertaining video based format - by kids for kids.

This new website is for kids aged 7-17 and is hosted by Katrina and Sloane, award winning competitive dancers and athletes. Fit For A Feast provides a wealth of activities for teens and tweens in an entertaining and informative video format. From interviews with talented kids to dance lessons with well known personalities, viewers can watch new videos with the hosts every week. With ideas for school skits to extreme sports and magic, there are hundreds of fascinating hand-selected and screened videos geared to motivate kids to be active and have fun off-line. All site content is age appropriate and contains content parents and teachers will appreciate. The site includes kids from different abilities, cultures, and countries from all around the world.

Parents can also access a section geared for parents of kids aged 7-17. The parents pages contain informative articles, tips, ideas and a host of other information for raising fit, healthy and happy families.

Membership is free and kids can discover a world of interesting things to do. The cultural dance section shows dance styles from around the world. The Parties section features ideas on seasonal, sleepover, scavenger hunt and healthy food parties. There are jokes, funny videos, school skits and going 'green' for environmentally conscious kids. The Fitness section includes snow, ice, and water sports, trampoline, gymnastics, jump rope and more.

Kids can learn about ultimate frisbee and wheelchair tennis or even freestyle soccer. On Sunday Chat, the girls interview celebrities as well as interesting and talented kids, asking questions kids want answered. The Cooking section features recipes, cooking videos, information on reading food labels, and safety in the kitchen. The Games section features schoolyard, outdoor and anywhere games that kids can play for free. Also available on the http://www.fitforafeast.com website are tips on hair and skin care, body image, and staying safe on-line.

If you want your children to be motivated to eat right, be active and play with other kids, have them check out http://www.fitforafeast.com. They will be having so much fun on the site - they won't even realize they are learning about health and nutrition.
###
FitForAFeast.com is a new kids website featuring kids outdoor games, activities, kids cooking, dance and videos for kids hosted by Katrina and Sloane. From jump rope to tag, kids sports to outdoor games, FitForAFeast.com is the new kid on the block.

# # # Categories : Family Tags : kids, children, Family, Fitness, cooking, games, summer, dance, activities, videos


© 2014 Fit for a Feast- a fun place for kids cooking, kids fitness and kids activities. Join Katrina and Sloane for some great cooking recipes, dance tips and fun activities for kids.