Singing
Learn to Sing
Learn to sing and be the best at the next karaoke party, or even become famous like Justin!
Many kids dream of being a singer on a stage or on TV. Justin Bieber started out by posting himself singing on Youtube and he was discovered by a local agent and now look where he is!
Join a complete online singing course on how to be a better singer here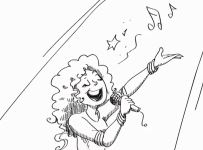 The last season of America's Got Talent, Canada's Got Talent and American Idol all showcased young singers with beautiful voices.
You can start singing at any age. Learning the right breathing techniques will help your voice project. Taking a local singing class is a good idea to learn from an experienced singer.
Already a good singer? Age 8-12? Check out the new 2013-2014 Singing competition for television at www.stepup2themic.com
How to hit the high notes
Some tips include high notes not being higher, but just faster in speed. Normally we reach up to hit high notes, but the voice really acts like an elevator. As we sing higher we want to think of reaching down so we create "compression" or a weighted feeling.
Most people reach up as they go higher, but you want to learn to keep everything more level. Practice will help your muscles get more used to making these adjustments as you go higher and lower in range.
Singing like you speak makes it easier so you don't add extra pressure for high notes.
Check out this amazing 11 year old singer.