Parallel Bars
Gymnastics Parallel Bars
In this gymnastics show in Oklahoma City, 2008, world class male gymnasts perform on the parallel bars. You will see them each perform – sometimes together. Very cool. Athletes names are: Ivan Ivankov, Kevin Tan, Paul Hamm, Raj Bhavsar and Jonathan Horton.
The parallel bars are 3 1/2 meters long and 4 cm wide and they are placed 2 meters high.

The parallel bars are one of the 5 skills that make up men's artistic gymnastics.  The other four skills are the vault, the suspended rings, the pommel horse and floor. 
Gymnastics Floor Routine
The floor routine is the only one where there is no equipment.  However, athletes must perform basic moves based on their level.  Floor routines will include skills of strength, power, flexibility, balance and more, including layouts, tucks, twists, hand balancing and more.

Women do not compete on the parallel bar.  They train on uneven bars, where one is higher than the other and they go from one to another.  Some skills are similar to men's skills on the parallel bars, but others are very different.  Both require a lot of upper body strength and arm strength.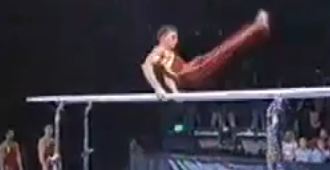 The dismount is a very important component and athletes will be scored on the level of difficulty as well as how 'clean' they do the moves. 
There are always mats under the bars for safety.
There are many opportunities to learn gymnastics – in schools, in private gyms, even some skills are taught at dance or cheer studios (more the floor and tumbling skills).
See all of the Gymnastics Parallel Bars
here for an assortment of home parallel bars and gymnastics equipment.
There are many different levels to work through to get to the top level that you would see at the Olympics.  You can support local amateur athletes by attending their local meets and supporting their fundraising projects.