Stage Makeup Caboodle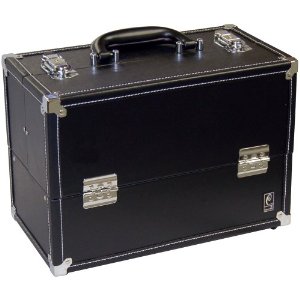 Dance Makeup Kits


A "Caboodle" or makeup case keeps everything together and well organized.

See our list of stage makeup including eye makeup, face makeup, lipstick and lipliner.

Put your own personal kit together and be ready for "quick changes"

Stage Makeup Caboodle Set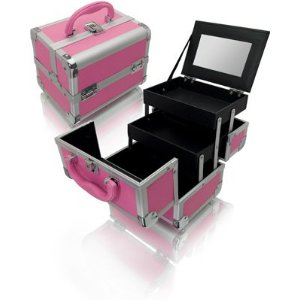 Pink Aluminum Cosmetic Train Case
On-Sale: Product Features:
High quality Aluminum Frame with reinforced steel corners

Black Easy to clean Interior
2 Pull Out Drawer
1 Large mirror
Which Doubles as a lid
Swivel Handle top
Pink Aluminum Cosmetic Train Case Style No. TS-79
This caboodle has great ratings and is sturdier than many on the market - worth a look.
The sturdier latches make for a nice but a little more expensive makeup case for dance comps.
This Shany model comes in many different colors - you can see them all here.
SHANY Cosmetics SHANY Premium Collection Makeup Train Case, Hot Pink Diamond
There are also more styles of dance Caboodles availble so pick the one that is right for you.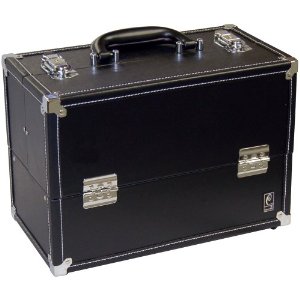 This checklist shows some of the most popular MAC makeup for competitive dancers and stage performers.
Here is a checklist of MAC makeup you may need for dance and stage. Keep everything organized in a Caboodle. You can even use a fish tackle box or anything else with compartments to keep everything organized.
This new zebra makeup case is the style that Sloane likes. Zebra patterns are quite popular.
Size: 8 x 6 x 6 inches ; 3 pounds
Plenty of room for makeup and easy to open, easy to use.
Eye Makeup
Shadow:
Gesso or Vanilla for lid and upper eye   
Espresso or Cork for the crease
Eyeliner:
Boot black liquid eyeliner
False Eyelashes:
MAC #1, Ardell or Quo
Mascara:
Black
Face Makeup
Foundation:
Full Coverage, matched to the skin tone
Blush:
Desert Rose for light skin, Coppertone for medium to dark skin
Powder:
Studio Fix, matched to skin tone
Lipstick:
MAC Red
Girl About Town
Retro
Lipliner:
Cranberry, works with both red and pink