More Popping
Street Style More Popping
Here is another contestant on So You Think You Can Dance that can do some amazing moves, isolations & popping.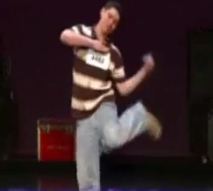 He wowed the judges & made it through the auditions, but quit the show later. His name is Phillip Chbeeb from Houston, Texas, and he was 18 years old at the time.
Popping is a street style dance and is one of the original funky styles originating in California during the 1960's and into the 70's. The technique involves quickly contracting and relaxing muscles to cause a jerk in the dancer's body which is called a pop.
This is done with the rhythm of a song in combination with various movements and poses. As an early funk and street dance style, popping is closely related to dance hip-hop. Many times, battles occur where participants try to outdo each other in front of an audience with improv and freestyle dance movements. Popping, locking and related styles like waving and tutting have also been incorporated into the electronic dance scene.