Hip Hop Dance Lessons
Hip Hop Dance Lessons Online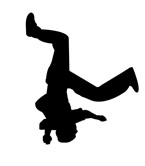 Check out some of our free hip hop dance lessons online. Learn hip hop dancing, popping, break dancing and even crumping!
If you want a complete beginner hip hop dance course with over 10 dance teachers, then take the course with Sloane and Katrina in this new online video series!
Learn more at www.HipHopCrusher.com.

Hip hop dance refers to mainly street dance styles, primarily danced to hip hop music.  Afrika Babaataa was the first person to use the term "hip-hop".  It can include a wide range of styles such as breaking, popping, locking, house dance and even electro dance.  It can also include freestyle and old school hip hop. 

Hip hop primarily started with breaking, a type of dance that started in the 1970s in New York.  Funk styles such as popping and locking developed in California during the 1960s –1970s.
By the late 1980s, hip hop music took on new forms and hence new dance styles began appearing.  Many of the moves were danced upright as opposed to breaking with its many ground moves.  By the 1990s and 2000s, the dance style took on a heavier and more aggressive form.  Today hip hop is known all over the world.

Lyrical Hip hop
In the 1990s, elements of modern and contemporary dance began to be integrated into hip hop.  This style has recently began to gain mainstream acceptance through the reality dance competition "So You Think You Can Dance".