On Wheels
Sports on Wheels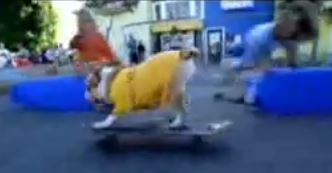 Lucky those cavemen invented wheels.  Wonder if they could do an Ollie or kickflip? 
We found videos of people that can do awesome tricks – there is even a skateboarding dog!   (Oooh – he is so cute!). 
Go-karts, land Luge, dancing bikes, unicycle tricks, roller blade slalom… whew!  No wonder helmets were invented!
Tyson the skating bulldog is no ordinary hound. He observed other skateboarders and decided he wants to skate himself without being taught. Don't try to take his skateboard away from him!
He hangs five, then hangs ten as he picks up speed. He also knows how to carry his own skateboard in his teeth.
In the video competition he scores a solid 10 across the board with his skateboard routine.