Dance - Ballet
Ballet
Ballet is a very formal type of dance that originated in the 16th and 17th century French courts.  It was further developed in Italy, England and Russia as a concert dance form.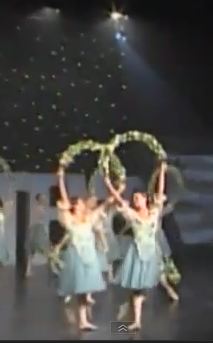 Ballet has since evolved into a very technical form of dance with its own vocabulary.  It is usually performed with classical music and is taught in ballet schools all over the world.  Ballet dance pieces are choreographed and also include mime, acting and are set to music. 
Ballet is best known for focusing on pointe work, flowing, precise acrobatic movements and often has the dancers in a white French tutu. 
Ballet dance lessons are available in most communities. Online ballet dance lessons in videos help inspire and show different techniques to develop correct ballet skills.
If you want to learn the secrets of a prima Ballerina, there are 3 keys to improving your ballet technique in the shortest time possible: Click Here for the Ballet Bible!
Ballet can help improve your flexibility and balance. In ballet, the dancer floats gracefully through the air on their toe tips. Stretching will help increase flexibility required for raising legs above your head and other ballet moves.
Ballet requires regular practice to improve and it is also the foundation for other dance styles. You will learn and develop overall strength, poise and coordination through ballet.
Different styles of ballet include Classical Ballet, Neoclassical Ballet and Contemporary Ballet. Classical ballet is the most traditional form with deep historic roots founded on the teachings of Carlo Blasis. Familiar styles of ballet include the Paris Opera Ballet School Method, the Danish Method, the Russian Method, the Italian Method, the Balanchine Method, and the Royal Academy of Dance and Royal Ballet School Methods which are derived from the Cecchetti method that was created in England and is taught worldwide.
Fundamental dance ballet basic steps in ballet that apply to other dance styles as well include the famous plié where both feet are bent simultaneously. Most of the time, the ballet dancer spends on pointe or on their toes.
Ballet does not only teach a particular dance style, but the very foundation and fundamental dance elements to get good at other styles. These foundations include balance, poise, good posture, strength, expression and flexibility.
Flexibility is important for all dance styles from jazz and modern to acro.
Have some fun becoming a better ballet dancer!