Snow Shoeing
Snow Shoeing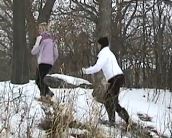 Ever tried snow shoeing?  It is like walking in the snow in big clown shoes.  If you think it is slow or boring, think again. 
Extreme snowshoeing means jumping, sliding, and getting buried in snow.  Check out this video from the Rocky Mountains in Colorado.
Dig your cleats into the hill and use your knees. The first person in the group is responsible for making the trail for others to follow. The first person shouldn't take the group into a lake!
Turning requires a little practice. It is easy to snowshoe even in a forest. You can go over twigs, leaves and other things in your path with no problem. Just use your natural stride.
One technique to get down a hill is to crouch so you are lower to the ground so that your center of gravity is lower. Use a wider stance as needed to get down the incline.
When renting snowshoes at your local ski shop, be sure to get the right size as they are rented out by weight. There are different sizes of snowshoes just like there are different sizes for regular shoes.
You have to watch shoeing across ice so it does not crack or break!
You can run in snowshoes too for a better workout.
Katrina went snow shoeing at a friend's cottage in the winter and walked all the way across the frozen over lake to a friend's house with snowshoes on. It was really fun.