Hit the Lights Dance Lesson
Dance Moves to Hit the Lights
Here are the dance steps to the Selena Gomez Hit the Lights dance routine that we did at Katrina's 13th birthday party.
Hope you enjoy learning this dance. The Hit the Lights dance was choreographed and performed on a single day in January, 2012.
Thanks to Carlena Britch for all of her help teaching us this choreography.
Selena Gomez had had many hit songs out, and this is one of her latest.
We had a lot of fun creating this dance and performing it at Katrina's party. Since there are two different groups, we break down each one so you can either do it alone or with your friends.
You will see in our video that we had a big group of our friends come out to celebrate Kat's birthday and have fun dancing with us.
One thing that's funny in this video is that Katrina had the hiccups while we were trying to shoot this video. They wouldn't stop so we decided to just keep rolling!
Follow along with Sloane and Katrina as they show you step by step how to do a fun and easy dance to one of the most popular teen singers of our day!
Learn Hip Hop Dance Online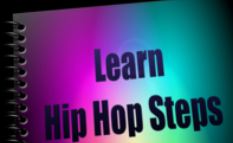 For a Complete Online Dance Course with 10 Hip Hop Instructors along with Sloane and Katrina, check out Hip Hop Crusher online.
It is now here at
HipHopCrusher.