Katrina Solo Brass Band
Katrina and Sloane Dance Performances
Here are some of Katrina and Sloane's dance performances.
Katrina performs an acro solo to "Brass Band".  Katrina was 9 years old at the time.  This dance is an acro style of dance – a combination of gymnastics moves and dance. 
At competitions, acro dancers are expected to do some tumbling/strength/balancing gym moves as well as dance turns, leaps and other dance elements. 
It is a very exciting form of dance and is Katrina's favourite to perform.
All dance takes strength and balance, just like gymnastics or cheerleading.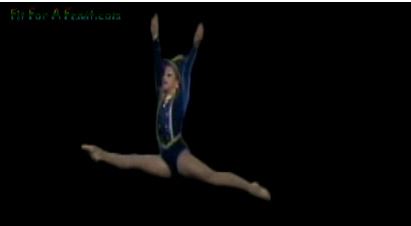 The sports compliment each other since many of the elements are the same: splits, leaps, hand walking, balancing, etc. 
The form of gymnastics most used in dance is tumbling – as you will see by Katrina's tumbling pass of round off + three back handsprings.
If you are interested in tumbling and gymnastics, please check out our videos in the fitness section under the gymnastics section and in the section 'on the mat' (tumbling). 
Remember that we have had training to learn these tricks.  Do not try them at home without training, a spotter and a soft surface like a gym mat.  Tricks and flips can be dangerous without proper training.