Make your own Halloween Cupcakes

Marshmallow Lollipops

Halloween Cupcake Stands and Trays

Halloween Costumes

Halloween Masks
Halloween Gingerbread Haunted House

Halloween Treat Alternatives
Halloween Decorations



Buy Pumpkin Seeds

Halloween History

Halloween Party Ideas

Blacklight Party

Halloween Party Foods
Video-How to Roast Pumpkin Seeds

Pumpkin Seeds Recipes

Check out some best selling Halloween Costumes
Roast Halloween Pumpkin Seeds
-Roast your own Halloween Pumpkin Seeds - Check out our Video on roasting pumpkin seeds



Making them is alot of fun and they taste great too!

Additional Pumpkin Seed Tips: When carving the pumpkin, you can scoop the seeds into a bowl or colander and the rest you can put onto a newspaper. When goop is mixed with seeds, just run water over it and they will separate.
Once you have rinsed and drained the seeds, and you are not impatient to get started, allow the seeds to sit out on a tray for a whole day or so in order to completely dry out.

Now you can pick out the remaining pieces of pumpkin stuff that didn't get pulled out earlier and they will roast better if they are not wet when they go in the oven. My family loves these and yours will too.

Try different seasonings like cinnamon or garlic salt instead of regular salt. Yummy!
Here is another online recipe for simple pumpkin seeds: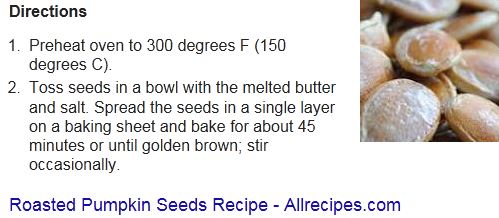 Roast your own pumpkin seeds this year.

See this video with Katrina, Sloane and friends.
Your pumpkins have so much potential, don't let the seeds go to waste!
Crunch and full of flavor, discover pumpkin seeds for anytime of year, but especially around Halloween.