Make your own Halloween Cupcakes

Marshmallow Lollipops

Halloween Cupcake Stands and Trays

Halloween Costumes

Halloween Masks
Halloween Gingerbread Haunted House

Halloween Treat Alternatives
Halloween Decorations



Buy Pumpkin Seeds

Halloween History

Halloween Party Ideas

Blacklight Party

Halloween Party Foods

Video - How to Roast Pumpkin Seeds

Pumpkin Seeds Recipes

Check out some best selling Halloween Costumes
Halloween Decorations
-Halloween Decorationsget everyone in the Trick or Treating spirit and also create a fun atmosphere for Halloween parties.

Finding the right Halloween Decorations can "up the spook level" of your party or home on Halloween.

-Halloween Animated Props – Great for haunted houses, Home haunts, Halloween parties and more. Psyco Sam (chair not included) is the ticket.


Psycho Sam - Animated Halloween Prop guaranteed to scare the whole neighborhood.


Halloween Animated Zombie Tombstone Prop






Halloween Balloon Arch Package Each


- Happy Halloween!


This halloween also check out some of the new
fox costumes
. What does the fox say?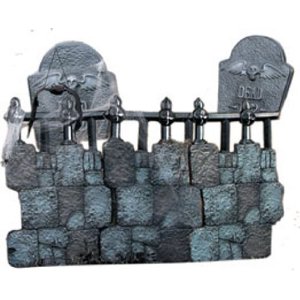 Halloween decorations can include props and indoor or outdoor displays.
Our neighbor likes to convert his whole garage and is the talk of the block.
There are strobe lights and rocking grandpa Crotcheties, Cauldron Coolers, tombstones, pumpkins, party supplies, animated props, gargoyles, hanging props, black cats and things that glow in the dark.
Add Halloween music and effects for your complete Halloween spookfest!