Harlem Globetrotter Tricks
Harlem Globetrotters Ball Tricks
The Harlem Globetrotters were created in 1926 in Chicago, Illinois.  They are a travelling team of exhibition basketball players that have toured in over 118 countries. 
The Globetrotter's show combines basketball with comedy and theatre.  Their theme song is well recognized – but not everyone knows the name of it.  It is a whistled version of Sweet Georgia Brown.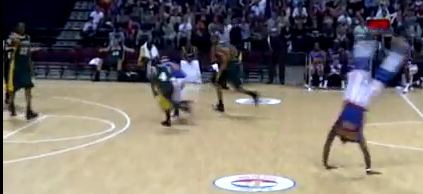 The Globetrotters have been sharing their crazy antics, stunts and monster dunks with audiences for decades and they are still performing today. It seems they are getting better and better all the time.
Jet Williams is one of the Globetrotters you can see. He is 6'3", weighs 205 lbs. and has been playing baskedball since he was 4.
Around the town and over and under, he can juggle a basketball in addition to spending time fishing and golfing. He went to the University of North Carolina at Asheville and cane in second place in the slam dunk contest. Others include TNT and Too Tall.