Soccer Training for Kids
Soccer Training for Kids
Soccer was first played in England in the mid 1800's.   In 1863, the Football Association was established in England.  It began as a sport for the upper class, but because of the low cost of equipment and ease of play, it quickly spread as a popular sport for everyone. 
The game became very popular in Germany, France, Spain, Italy and Portugal.  The first soccer game was played at the 1900 Olympic games. Soccer is the most popular game in the world, although it is often called football overseas.  Soccer has gained popularity in the United States over the last 20-30 years. 
Now there are several million children that play on youth soccer leagues in the U.S. and Canada.
So gear up for soccer and get active!
Rebounder Goal
A rebounder goal will help improve targeting, strength and endurance without needing a goalie to practice with.
Tekk Trainer Rebounder Goal
has all of the following training features for soccer players:
Ball comes back to you at game speed so you can practice passing, shooting, trapping and heading
Strongest and largest portable trainer on the market - 40 square feet of surface area
Angle adjusts to seven positions and provides all around training for players of every position
Sets up in 5 minutes
Also, the best in its class for basketball, baseball and lacrosse
Used by kids and pro players alike for daily training
Recommended for players ages 6 and up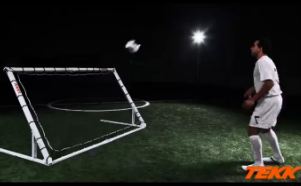 The 2014 World Cup is being played in Brazil!
Portable Soccer Net
If you need a portable practice net, check this one out. Bow Net Portable Soccer Net
Possibly the best portable soccer goal, free carry bag included
Rigid steel and fiberglass pole construction
Sets up quickly with no screws, no snaps, no snags, no tools required
Portable soccer net weighs only 17lbs