Agility Ladder Training
SKLZ Ladder for Agility Training
The SKLZ ladder is used to coach and train all styles of athletes.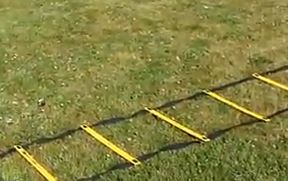 Designed for coaching the important initial strides for all athletes, the SKLZ Quick Flat Rung Agility Ladder has 11 adjustable flat plastic rungs. The distance between rungs is 15 inches.
The integrated storage strap keeps the trainer tangle-free.

A storage bag is included along with an instructional DVD and a 6-week progressive training workout plan. It even comes with ground stakes to hold the ladder in place while using it.
Some important things for a better workout include pumping your arms and standing on your toes. Check out the 1-foot rungs in the video and then try 2-foot rungs for double the action.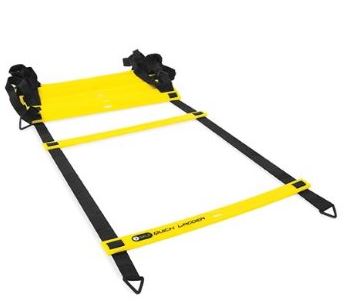 Once you get warmed up with the front runs, then you turn sideways and do lateral runs. This is great training for all types of sports including soccer, football, basketball, gymnastics, running and most any other sport that requires quick feet and endurance.
There are even ways you can be active and make some pocket money: Get a newspaper route. Be a dog walker (provided you like dogs). Mow lawns for neighbors. Offer your services to shovel snow.

Graduate to cuts and other quick moves. Then have some fun with right-foot left-foot hopscotch. Bunny hops are another move that can be performed on the agility ladder.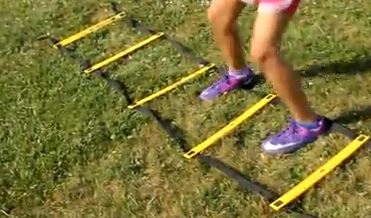 Crazy Climbers are also shown in the video. This is a great endurance and cardio workout for kids.
Layla in the video does Iggy Shuffle and has some really good footwork for a 7 year-old girl.
Be sure to take breaks, drink plenty of water and have alot of fun when using SKLZ agility ladders for training.
See the reviews for the SKLZ Agility Ladder Here.