Just Dance 4
Just Dance 4 Video Game for Dancers was fun so Just Dance 2015 is even better!

Some of the most popular songs and dances in the JD4 version of the game includes Gangnam Style, Call Me Maybe, Beauty and the Beat, What Makes You Beautiful, Moves Like Jagger and others like We No Speak Americano.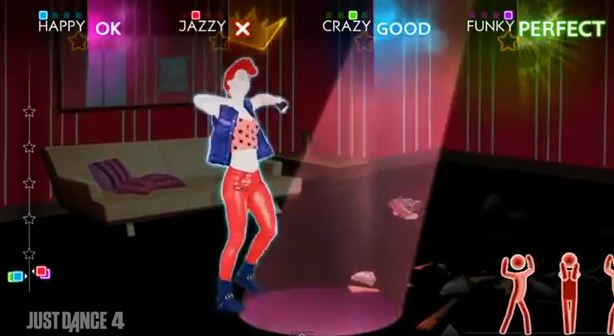 Gangnam Style choreography and other dance moves are featured in this wildly popular video game. Get Just Dance 4 Here:
Just Dance 4 USA
Just Dance 4
(Wii)
Just Dance 4
(PS3)
Just Dance 4
(Xbox)

Just Dance 4 Canada
Just Dance 4 - Trilingual - WiiU

Just Dance 4 - Trilingual - X360

Just Dance 4 - Trilingual
You can challenge your friends to 6 rounds of a dance battle! There is also a "Just Sweat" workout session for getting fit.

Songs include Nicki Minaj's "Super Bass", "Good Feeling" by Flo Rida, "Moves Like Jagger" by Maroon 5 ft. Christina Aguilera, "So What" by P!nk, "You're The First, The Last, My Everything" by Barry White, One Direction and more.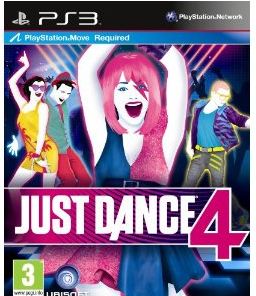 Get alternative choreographies for your favourite tracks including ultra-challenging and crazy routines and dance moves.
Let us know if you want us to do a choreography for one of your favourite Just Dance 4 songs! We might make a new video of it.
Tribal Dance, Hot For Me, Crazy Little Thing, Crucified, You're The First, The Time Of My Life, Hit' Em Up Style (Oops!) Can't Take My Eyes Off You, Make The Party (Don't Stop)mCall Me Maybe, Everybody Needs Somebody To Love, Jailhouse Rock,The Final Countdown ,Good Feeling,Time Warp ,We No Speak Americano,On The Floor,Beauty and a Beat, Run The Show Oh No! Maroon 5 ft. Christina Aguilera Moves Like Jagger Nelly Furtado Maneater Nicki Minaj Super Bass One Direction What Makes You Beautiful P!nk So What Panjabi MC Beware Of The Boys (Mundian To Bach Ke) and much more.
Just Dance 2015 even includes Walk This Way by Run DMC.