Kids Fitness Equipment
Fitness for kids can be fun and healthy at the same time. Get the right gear for Elementary, Junior or High School age kids and improve self-esteem, concentration and body image.
Top 5 Fitness Gear Items for Kids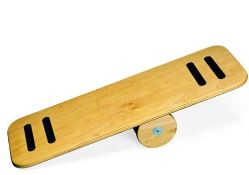 1. Carrom 510.01 Balance Board

This balance board is a conditioning board for fine-tuning balance and coordination for kids. Made of high-quality hard plywood with a polyurethane finish, the board features anti-skid strips for control and safety. This 300-pound capacity board is ideal for skateboarders, skiers, snowboarders, surfers and general fitness workouts. Size: 31.5 x 6.25 x 10". Weight: 8.5 lbs.
2. Metal Twirling Baton

This twirling baton is perfect for kids 4-12 years old. Length: 21". Weight: 1 1/2 lbs. with protective endcaps.
3. Bazoongi 48" Trampoline Bouncer with Easy Hold Handle Bar - Green

This fun trampoline bouncer for kids has galvanized springs and has a handle which adjusts easily to two different sizes. The maximum weight capacity is 100 lbs. Item weighs 15 lbs. Bazoongi Trampoline Little Bounce Bouncer will allow a child to bounce for hours of fun.
4. Raspberry Confetti Jump Rope 16
These confetti style jump ropes come in many different patterns and colors. Regular jumproping helps with balance, coordination and fun! These double-braided jump ropes adjust to the size of any child and resist kinking. 16' jump ropes are perfect for group play, where 2 children hold the rope as one jumps, or it can be doubled over for single jumping. 16' Confetti Jump Rope is available in assorted colors and is for ages 4 and up. See some of our fun skipping rope games.
5. Air Kicks Anti-Gravity Running Boots, Medium (T-2) for 99-176 Lbs
These anti-gravity boots will make you light on your feet. The boots fit right over athletic shoes sized YOUTH 4-7, WOMEN 5.5 - 11.5, MEN 6-10. Low-impact and gentle on ankles, knees and back. These boots are for children, teens and adults weighing between 99 and 176 Lbs (ages 8 and up). In addition to being fun, these boots also provide calorie-burning, coordination-building and a leg-strengthening workout
Get replacement springs for different weight classes to adjust the user body weight range without needing to buy a new pair of Air Kicks.
For gymnastic tutorials, visit our "On The Mat" section.