World Cultural Dance
Discover Folk Dances from Around The World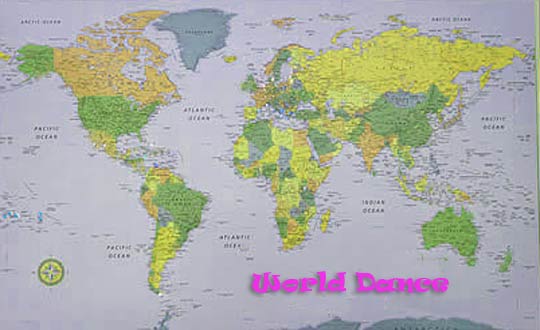 Folk Dances From Different Cultures Around The World
Go on a World Tour of dance. Some dances are very similar, some are like nothing you have ever seen before, and some date back 1000 years or more.
Click on any area of the map to find dances from any part of the world.
Explore dances from all 7 continents and lots of countries. We have tried to represent many countries and cultures, and continue to add even more dances as world dance evolves.
Many are traditional folk dances, some have a modern twist.  Most of these dance videos have wonderful costumes or traditional garb and some offer fantastic scenery.  It is interesting to see how similar or how different countries can be that are close together on the map.

Hear the traditional music – some have really different sounds or use unique instruments. The human voice is a common instrument that has been used for thousands of years. Drums are also common across countries and continents, although they may differ in size and sound.

Explore a world of dance and see how similar - and how different – dance is around the world. If these dances inspire you, look into learning more about traditional or cultural dance from your country.
Popular Dance Styles Around the World
There are many different dances for different kids around the world. The latest dance trend is to blend different cultural dances with modern and popular dance styles.
Historic and traditional dance goes back hundreds and even thousands of years. When travelling, check out the local traditional dances and costumes for some inspiration!
Cultural and ethnic dance styles are as unique as the areas of the world they come from. Check out the interactive map above for cultural dance in the country of your choice. Just click on a country and explore the various local and regional dances and traditions.
Traditional African dance has roots dating back thousands of years and includes Anyako Atsia, Agbadza and Brekete among many more. Sacred dance styles include Afa and other religious dance rituals.
Cultural dances around the world are practiced in Asia, Africa, America and Australia and really anywhere on the globe. Dance is also evolving and sometimes a new style is created by blending existing dance moves.
Love traveling?
Follow along as Katrina travels the world in this family travel blog vlog.
In North America, popular dance styles include hip hop dance, tap dancing, jazz, ballet, acro, modern, contemporary, lyrical and even salsa, ballroom and recently zumba which blend physical fitness with dance steps to music.