FIFA SOCCER 2013
New FIFA SOCCER for the PS4:
FIFA 14 - PlayStation 4
This game is called FIFA 14.
FIFA 14 - Xbox 360
FIFA 14 on the XBOX 360.
Last year's version is still popular as well:
FIFA Soccer 2013

This soccer game is rated E for everyone on the Xbox, PS3 and Wii.
FIFA 2013 includes skill games like learning to cross the ball.



You can learn how to deliver an early cross just like the professional soccer players like David Beckham. In the gold level, you dribble into the zone and activate the targets, then vary the length of your crosses to hit multiple targets. You can retry levels for a higher score or unlock additional items.

According to the release: "FIFA 2013 captures all the drama and unpredictability of real-world football. This year, the game creates a true battle for possession across the entire pitch, and delivers freedom and creativity in attack. Driven by five game-changing innovations that revolutionize artificial intelligence, dribbling, ball control and physical play, FIFA 2013 represents the largest and deepest feature set in the history of the franchise."

The great thing about these type of games is that you can play them the whole year long, so you get a lot of value for a one time purchase, where other games are solved in a few days and then put away.

This game is wildly popular with soccer addicts as shown by the 1 million copies sold on the day of release. The game is made very realistic where some players can't play because of injuries and other real-world turn of events in addition to standard gameplay.

You can hold down both buttons for a face-up mode of dribbling to enhance your control on the pitch. This game also has an Ultimate Team Mode where you can put together an all-star team.

Get FIFA SOCCER 2013 in the U.S.
FIFA Soccer 13
(choose your platform here)
Buy FIFA SOCCER 2013 in Canada
FIFA Soccer 13
Buy FIFA SOCCER 2013 in the U.K.
FIFA 13 (PS3)

FIFA 13 (Xbox 360)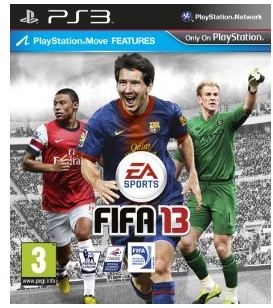 FIFA 13 is the most popular soccer video game of the year.